Our research, and knowledge as professional car detailers helps us to know what makes the best car vacuum. In turn, should help make your decision to find for next car vacuum a breeze.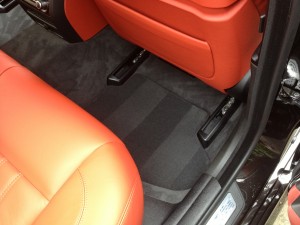 One of the most important aspects of cleaning your car to a high standard is, by far, the interior.
The interior picks up dirt every time the car is used but not only that, it has an uncountable amount of nooks and crannies that gather dirt and dust.
This makes the interior cleaning process a long and tricky process if the right tools aren't used. Using the best vacuum for your car will make your job so much better, easier and more enjoyable.
If you want to learn more about the interior cleaning process, click the link for our guide on a great car interior cleaning routine for more tips and a free weekly and monthly plan!
Top 5 Best Car Vacuum
A great vacuum for the car will have different qualities and specifications than the hoover you use in your house.
Your car hoover needs to be powerful, easy to maintain and have a range of additional attachments to cope with the multitude of surfaces found in a car.
Recommended For: Value For Money
Overall Rating: 7/10
The Vax 6131T is great choice if you are looking for a quality vacuum for your car. Just like the Numatic GVE370-2, it offers 3-in-1 functionality so that you can change from dry, wet and spray extraction mode. These types of vacuums offer the best value and all round performance for car vacuums due to the their diversity, functionality and reliability. As they are designed to pick up liquids they usually have fantastic performance, especially in dry mode. The machine has become the number 1 seller in many industries and shops for good reason. Vax is a popular household name and for good reason, their machines do what they say and do it well.
This particular model is rated at 1300w which is usually a good sign that there is a powerful dirt-sucking motor inside and the Vax 6131T proves this. The ease of use is extended with the easy swap from a carpet washer to a bagged vacuum, and plenty of back-up accessories and parts gives the confidence of buying. The only reason this stays at number 5 is the slight drop in power compared to the Numatic offering.
If you are looking for a quality car vacuum this type of machine can usually save you several hundred pounds by eliminating the need to buy a separate machine but also with the multi-use function there is always a powerful motor to cope with the liquid pick up, making dry pick up and general vacuuming an easy task. The Vax is a great machine and is very popular between a lot of professional car cleaners which is why it comes highly recommended and a great option to be your choice of vacuum for your car.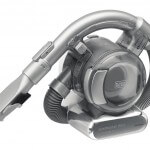 Recommended For: Ease Of Use
Overall Rating: 7.5/10.
A great alternative to the corded companions is this Black & Decker cordless, one of the best car vacuums without a cord. It is very similar to what I used to use in my dads shed when it was call the 'dirt devil' but things have moved on an incredible amount since then, to the point where they are now useful and don't just make noise! The obvious benefit of this machine is the cordless feature which if you have a long drive or no access to mains power near your car, will prove very useful and save a lot of time.
The 18V battery gives around 15 mins from our testing which, although doesn't sound much, is enough to be able to vacuum your entire car..as long as its not a large 4×4 covered in mud and pet hair! It really comes into its own when your car is looked after and you require a good vacuum to clean your car without the hassle or using a heavy machine or using mains power. It does stand up to a mains power machine and the use of the extendable cord makes it very easy to use and comes highly recommended.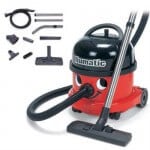 Recommended For: Reliability
Overall Rating: 8.5/10
Our favourite and most well used vacuum for cars is the Numatic NRV200. Despite the 'old school' approach of using bags and the very simple construction, it is one of the most reliable, powerful and quiet machines on the market. There are many variations of the model (most commonly disguised at 'Henry' but this features the best motor they produce and has the ability to leave it in high-power mode for the ultimate dirt-sucking power.
There is actually a new model available (Numatic NRV200C2) but due to the new regulations it features a less powerful 780w motor and a shorter hose to make up for the loss of power. This makes it harder to remove the soiling from your car and also means its right under your feet!
If you want to improve the ease of use, the first thing we do with our Numatic car vacuums when used for professional valeting is to swap the standard hose for 4m equivalents to make it easier to manoeuvre around the car but still gives no notable loss of power due to the powerful 1200w motor.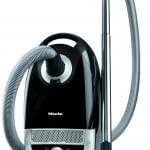 Recommended For: Quality
Overall Rating: 9/10The Miele Complete is a great alternative to our favourite Numatic vacuum. It packs an even bigger punch than the Numatic and has the added benefit of multiple attachments which are housed in the internal storage to ensure they don't go astray. THe vacuum itself is great as a car vacuum with the powerful 1600w motor which, despite being less power than last years model, still offers one of the best suction powers available, making it quicker and easier to clean your cars interior.
The use of the included dust brush is ideal for vacuuming the dash, controls and leather upholstery but when you need to clean in-between seats or tighter areas, the crevice tool is very useful at reaching tricky areas and also helps increase suction power psi for quicker dirt removal. The machine itself is quiet and efficient and bag replacement is a breeze. Spare parts are easily available and the build quality is fantastic. Also available for pet owners is the Miele Compact Cat & Dog C2.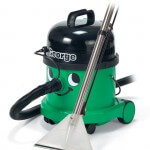 Recommended For: Performance & Value For Money
Overall Rating: 9.5/10
Aside from our highly recommended, and reliable, Numatic NRV200, the GVE370-2 is the most trusted, tested and best car vacuum in our professional car cleaning workshops.
It is very similar to the Numatic NRV200 in design and looks, but the GVE370 ads to the incredible machine with 3-in-1 functionality offering dry, wet & spray extraction, making it our podium winner.
In dry mode it offers the same powerful performance as the NRV200, using a bag and hepa filter to extract the finest of dust particles.
This machine does use the larger bags however, but they are usually no more cost and increases the run-time between bag change so is certainly a plus.
Wet Mode Vacuuming
The wet mode swaps the dry filter for a gauze style filter which doesn't filter out the fine dust as it designed for liquids so its best to put the vacuum into the required 'mode' to ensure longevity
The liquid pick up performance gives the chance to really feel the power of the machine and can withdraw liquid with ease.
As we run a professional car cleaning centre, our machines are primarily used with the upholstery tool but does come with floor tools to pick up liquids from hard flooring and makes drying easy.
The performance with the upholstery tool gives the best performance psi as the suction surface area is decreased and certainly has enough performance to leave seats only lightly damp which makes drying time very short.
Which leads us to its last main feature, the spray extraction system. This utilises a tank-in-tank feature which means the 'clean' water tank is placed inside the 'dirty' water tank which retains its compact size and makes it very easy to use when using it to clean upholstery, carpets & seats.
You can either use fresh water in the clean tank and use the spray extraction to 'rinse' the fabric or use it with detergent for increased performance.
The machine stands by its quality brand and is a real asset to Numatic with its powerful suction power, multiple modes and great build quality. It is for these reasons that no other machine beats the GVE370 for the value for money or even up to several times the cost of it!
See More Reviews..
Now that you have your car vacuum sorted, take a look at our other posts to look after your car!