Car Interior Cleaning Routine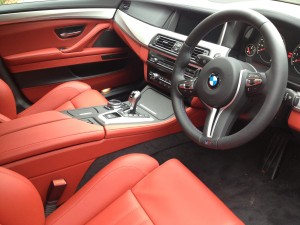 Our car interior cleaning routine is designed to help keep your interior clean either after a full detail or if you want to keep a new car looking like new.
After years of detailing peoples car for a living, the most common question I get asked is "how do I keep it looking this good?".
So, rather than relying on remember a thousand things I've said or notes on a scrap of paper, I have written a few easy steps to take that will keep your interior looking clean all year round and will work on any interior.
In summary, regular vacuuming and dusting of your cars interior is the best way to keep it looking good. However, surface cleaning alone is not enough. Two to three times a year you will need to deep clean the upholstery to keep it looking its best.
Don't forget the interior of your car takes a lot of abuse. Each time you get in your car, you drag in more dirt. Each time to eat or drink in your car you add a few more crumbs and spills. In fact, just sitting in your car, you drop hair, dead skin, makeup and other contaminants. All of this dirt and junk adds up very fast.
It is not necessary to fully detail the inside of your car every time you wash it. Just cleaning a little and often will keep it quick and manageable. Unless you've been to the beach, out in the mud, or tracking in grass, you can probably get away with vacuuming and a quick wipe-down every couple of weeks.
As a guide, I have written this easy to follow routine to keep your car looking its best at all times. You should find that once it is kept on top of it will take very little time.
Weekly
Remove all litter, empty ashtray and compartments.
Remove your floor mats, shake or brush off loose debris.
Wipe down all vinyl, plastic & leather surfaces with a damp microfibre to leave a lint-free, dust-free finish. You can add an interior quick detailer spray to top up protection.
Wipe down your door jambs and door sills with a damp microfibre.
Monthly
Follow all of the steps for the Weekly Cleanup.
Vacuum interior carpet, seats, seat crevices & console.
Apply plastic/vinyl protectant with a UV light inhibitor to the dash, console and door panels. I find a foam applicator works best followed by a microfibre towel to even the finish.
Clean interior glass with glass cleaner and microfibre.
Quarterly
Follow all of the steps for the Monthly Cleanup.
Clean and protect leather & vinyl upholstery.
Clean fabric upholstery to remove ingrained dirt (either by hand or extractor for deeper cleaning).
Clean and protect all rubber door & boot seals.
So there you have it, easy to follow and once kept in check is an easy task that should take no more than 15 minutes each week for a fresh looking interior.
Recommended Products
Weekly
Auto Finesse Spritz Interior Detailer 500ml
 – Cleans light soiling and leaves a factory fresh finish.
Kent Q6600 Microfibre Towel Pack (6 Pieces)
 – Microfibres for general purpose cleaning & glass polishing 
Monthly
303 Aerospace Protectant
 – Vinyl protectant to restore appearance & protect against UV light damage.
Glass Cleaner
 – Easy to use glass cleaner for smear free vision.
Quarterly
Gliptone Leather Cleaner & Conditioner 250ml Complete Car Seat Kit
 – Premium leather cleaner & conditioner set.
Autoglym 500ml Vinyl and Rubber Care
 – Great for protecting rubber door & boot seals.
Meguiar's Carpet and Interior Cleaner
 – Great for general cleaning, tougher clean-ups & shampooing fabrics.
Don't Forget To Bookmark This Page!
Car Interior Cleaning Professional Services
If you are looking for a professional car cleaning service that you could trust, then look no further! We carry out all our work to the highest standards and if you sign up for a maintenance programme then all steps listed above will be included as standard without lifting a finger!
See our Professional Car Interior Cleaning services or call 07878 932511 to get your car looking like new.