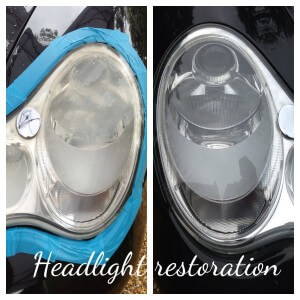 Headlights not looking as good as they used to? Our professional headlight restoration service in Surrey removes the cloudy, yellowed, oxidised layer and leaves a crisp, clear finish improving visibility. Make your headlights look like new again!
Get your headlights looking like new for just £45 + vat each!
New headlights can cost several hundred pounds to replace, when our professional headlight restoration can achieve an as-new finish for a small margin of the cost of replacing them!
Transform Your Car With A Headlight Restoration Service
Save £££'s on new or replacement headlights!
Restores headlights to an as-new finish
Improves visibility so you can see further!
Pass MOTs with ease!
Protects against UV fade in future
Our headlight restoration service is not only safe to carry out but also increases safety whilst your driving allowing more light through the lens.
Professional Headlight Restoration Service In Surrey
Invalid Displayed Gallery
Book Your Headlight Restoration Service: Just £45 + vat each includes 6 months guarantee!
Call 07878 932511 or Book Online quoting 'headlight restoration'.
Headlight Restoration Procedure
Your headlights can degrade over time due to UV light causing it to oxidise and age; just like our skin.
If we don't use enough sun cream our skin will tan or burn. If there isn't adequate protection applied to your cars headlights the plastic lens can oxidise and tan/burn.
The oxidised plastic can end up cracking, turning yellow, going cloudy and generally looking old, worn and less than perfect.
Unfortunately unlike our skin which can heal itself we need to do the healing for them!
So the headlight is sanded using premium sandpaper to remove the oxidised plastic using multiple grades of gradually finer paper.
The finish is then machine polished to remove the sanding marks and polished to leave a sharp clear finish.
We then apply an ultra durable plastic protection coating to prevent your headlights from fading or oxidising again!
Restoring cloudy headlights is a safe yet very effective in making your headlights look like new again.
Where do we service?
We can carry out our professional headlight restoration service at our workshop in Guildford, Surrey.
However we also service Surrey with our mobile workshop so we can come to your home. Don't live in Surrey? We also offer a mail order service if you can't make it to us or live too far away to drive.
Simply remove the headlights, box them safely and post them to us; we will then restore them, seal them and post them back.
Call 01483 346344 to book today!