Is your soft top looking green and dull? Want it to look fresh and weather proof it again? Our professional soft top cleaning service will make you love looking at your convertible again, roof up or down!
Our convertible roof cleaning service will leave your soft top clean as new. Deep cleaned, stains removed and treated with no side effects and no damage to the delicate fabric. Plus the premium weather proof seal helps revive the look and protect against the elements. And you get to enjoy your convertible again!
Call us for our professional convertible roof cleaning service in Surrey and love looking at your convertible again!
How our proven soft top service works:
Our proven process designed to make your soft top look new!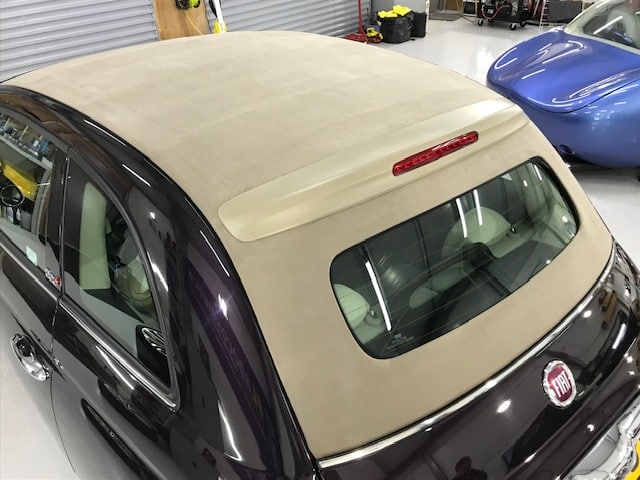 Professional Convertible Roof Cleaning Benefits
Maintaining your soft top is just as important as the paint on your car. But usually gets neglected turning green and dull especially in wet conditions (good old Britain!)
We use heated water and steam with premium biological cleaners to remove all dirt, algae and stains. This is also completely safe to all trim and can be carried out multiple times without risk. Your convertible will be deep cleaned but gently restored. We have doing this 12 years so have plenty of experience!
All cleaning is carried out by hand and low pressure steam. And ensures the best and safest cleaning for your soft top. So please be sure the utmost care is taken on the most delicate of soft tops.
The dirty solution is then flushed away with heated water. Then a full dry and quality check is carried out & cleaning repeated if needed. This ensure your soft top roof is left as clean as possible.
To finish, your convertible roof is treated with a premium soft top protector. These are designed to reproof, protect & preserve the appearance of your soft top hood. Plus helps makes owning a convertible a joy again!
Professional Car Soft Top Treatment In Surrey Promo Video
Convertible Roof Cleaning Examples
If you have a moment please take a look at our professional soft top cleaning archive to see our recent work.
Book Your Soft Top Rejuvenation Today!