How To Detail Alloy Wheels
Our guide on How To Detail Alloy Wheels will take you through 7 easy steps to getting your wheels looking like new.
Detailing your wheels will one of the most dramatic changes in the appearance of your car. Highly polished, swirl free paint will look awesome but having sub-standard wheels will always hinder the final outcome of your efforts.
Suggested Products
Pressure Washer – both mainly used for rinsing rather than cleaning so good water flow required but high power not necessary
Car Shampoo & bucket (use double the dosage as used on vehicle body)
Wash Mitt (microfibre or lambs wool)
Wheel Brushes
Long Wheel Brush – Optional if you want don't want to remove your wheels
Wheel Cleaner (non-acidic adequate but acidic may be required for heavily soiled wheels)
Tar Remover
Fallout Remover (highly recommend a ph neutral version to avoid use of acids)
Quality Tyre Dressing
Microfibre Towels – drying & polishing
Optional For Better Results – Car Jack & Wheel Brace
How To Detail Alloy Wheels
1) Remove your wheels
This makes it a lot easier to see & clean! Use your jack on solid, level ground and remove one wheel at a time.
However, if you really don't want to remove your wheels and can see the inner rim then use a long wheel brush which will clean the inside rim without removal.
If your wheels are heavily soiled and require the use of an acidic wheel cleaner, the cleaner wont get in contact with other mechanical parts and promote corrosion.
This is probably how your wheels will look if not been done before: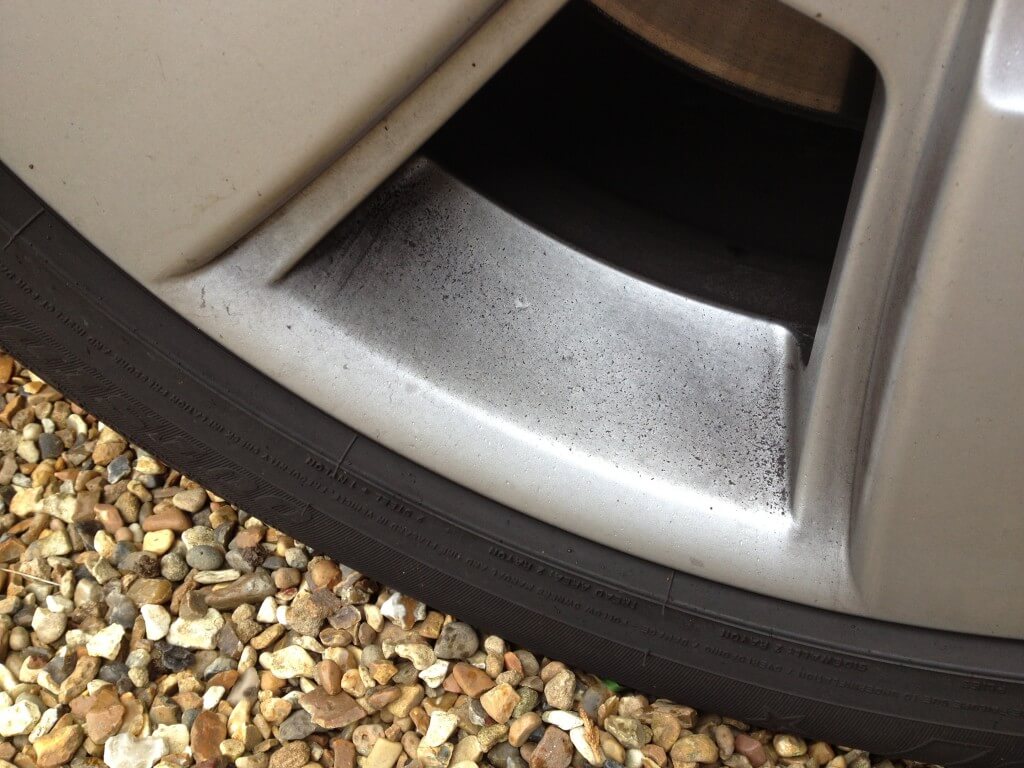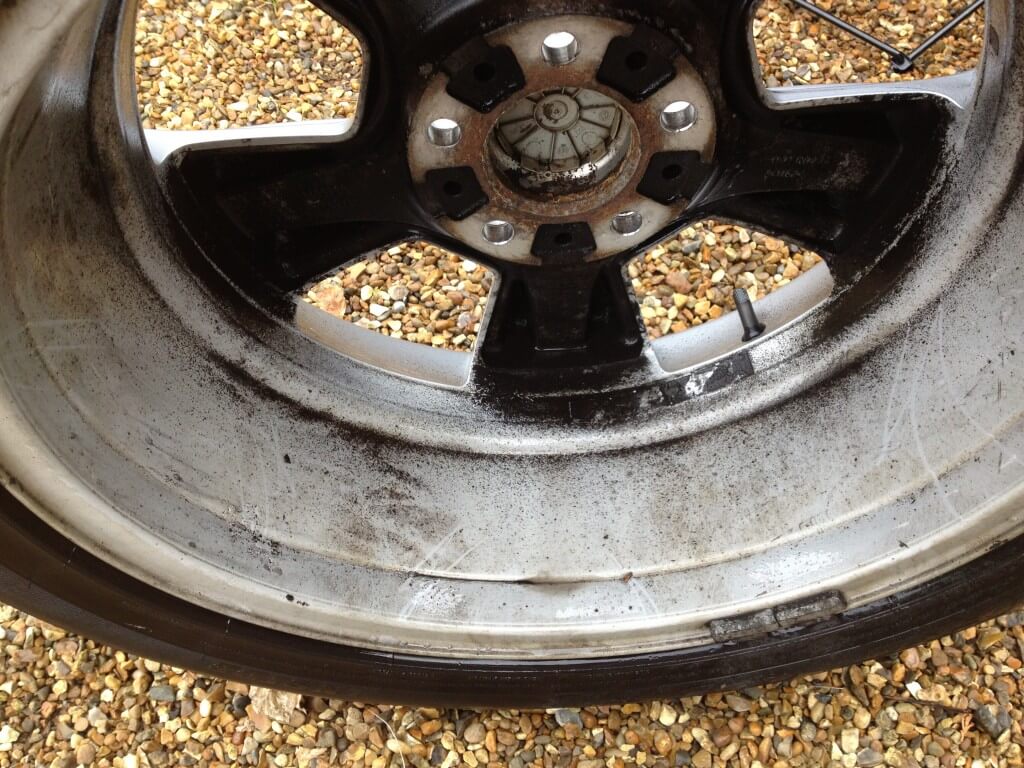 2) Clean the inner rim & behind the spokes
Pressure wash the wheel to remove loose dirt and using a strong shampoo solution (twice the normal amount), wash the wheel to remove the brake dust and surface soiling.
This will remove alot of dirt but will probably require a wheel cleaner remove stubborn brake dust and contamination. If so, apply your chosen wheel cleaner (non acid for light-medium soiling, acids for heavily soiled) and agitate with a quality wheel brush or your wash mitt.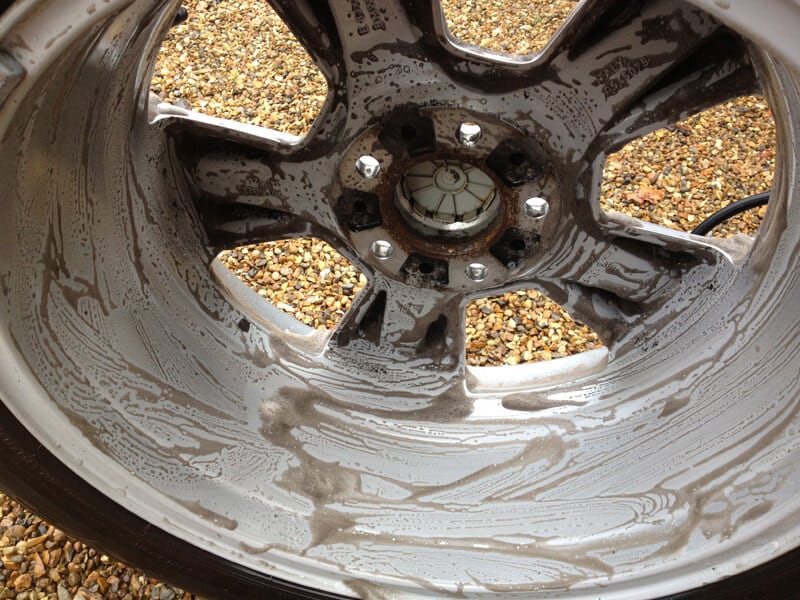 Rinse wheel thoroughly to remove all soiled solution & repeat if necessary!
3) Clean The Face

Once you are happy with the inner rim, turn the wheel over and repeat the cleaning steps on the face of the wheel, pay attention to tight areas including lug holes. The use of a small detail brush & wash mitt should be enough to clean all areas.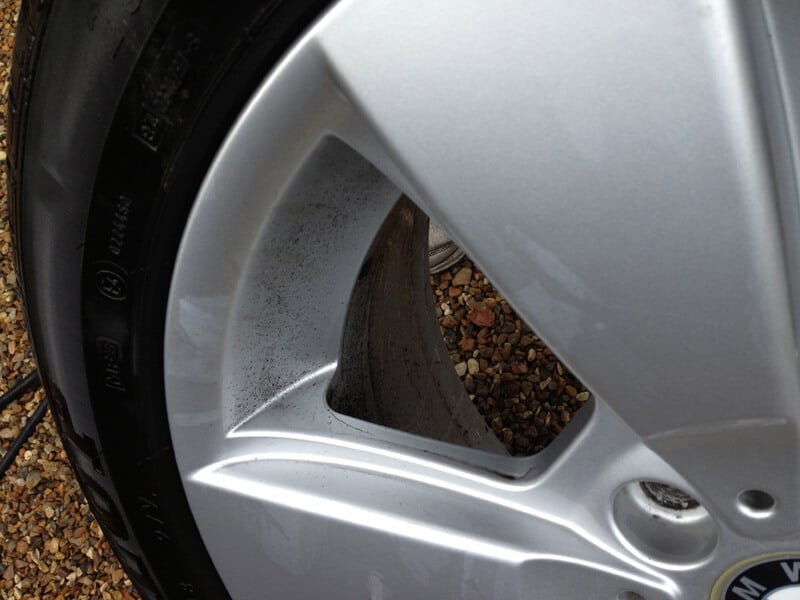 4) Remove Tar Spots
Once you are happy with the inside & face of the wheel, there may still be a fair amount of contamination on the wheel, looking like small black dots. This will either be tar or iron filings.
If it is fairly soft and big enough to be caught with a nail, then it will be tar. If it is very small and rough then it is usually iron filings.
Follow the instructions on any tar remover you choose, but try using a microfibre towel instead of cotton as it is softer but also does a far better job of cleaning. A small amount of product on the cloth and gentle rubbing on the affected areas should be adequate.
The following picture shows the tar product dissolving tar if applied directly the tar spot (also a good way to see if its tar or iron!)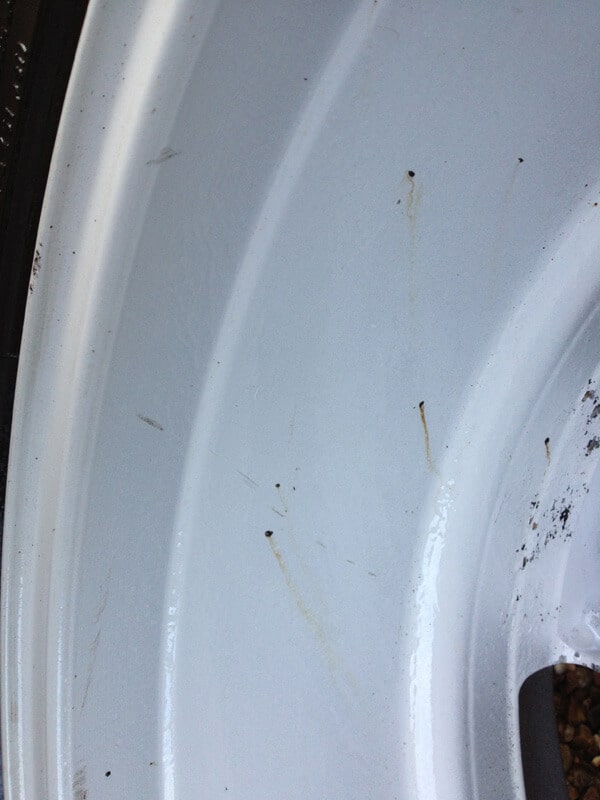 5) Remove Iron Filings
If you have thoroughly cleaned your wheel with brake dust cleaner and removed all tar and your wheel is still contaminated, the main cause will probably be iron filings. These are tiny particles of iron that have come from the brake discs & pads every time the brakes are applied but will be more evident with heavy, excessive or high speed braking.
This type of contamination is more common on german vehicles but also on larger cars, in particular 4×4's due to the increased braking power required.
To remove iron filings, a great product is Iron Out by Auto Finesse as it is highly effective yet ph-balanced making it very safe to use on delicate wheels and all automotive surfaces.
Simply spray onto the wet wheel, wait 2-3 minutes and you should see a visible change in colour making the solution purple. This indicates that iron filings are present and being dissolved.
Agitate with a brush, allow to dwell, rinse with pressure & repeat until all contamination is removed.
6) Polish | Remove Defects
Now that your wheels should be completely clean & free of contamination, dry the wheel using a spare microfibre towel and polish any imperfections such as scratches, marring or dull finishes using the same products you would use on the cars paint.
You can use polish that you would use on the body but if you want improved durability we recommend the use of a wheel sealant that is found below.
If you are going to use a dedicated wheel sealant, recommend using a separate polish first to improve defects and improve the bonding to the wheel.
Work small sections at a time using either a microfibre or foam pad to apply the products.
7) Protect | Add Shine
Protecting your alloy wheel with a quality wheel sealant will not only improve the finish but make it far quicker and easier to keep them clean and looking as good as new as it will resist UV light, water, dirt, brake dust & most other soiling.
Use either a dedicated wheel sealant or a car paint cleanser/sealant such as CarLack 68. They are just like car wax but add high-temperature resistance making them stand up against hot brake dust.
Protecting your wheels also makes them less likely to corrode over time, potentially saving you a lot of money in the future, all while giving you amazing looks wheels in the mean time!
8) Add Contrast – Protect The Rubber
To make sure the complete task is finished, you need to increase the contrast between the wheel and the tyre. Make sure you preserve & renew the tyre with a quality tyre dressing. Water based dressings don't last as long but will nourish the tyre and prevent cracking, whereas silicone based dressings provide more gloss but can sling as they won't get absorb into the tyre.
Finished Results
Now that all steps have been completed you can see the dramatic difference that a properly cared for wheel makes to your vehicle, the high contrast between a well dressed tyre and a highly polished silver finish can make or break an otherwise great looking vehicle.
Thank you for taking the time read and please visit us online as not only do we provide professional car valeting in surrey & car detailing in surrey, we offer advice on keeping your car looking its best and ways to protect your investment.