Top 5 Best Alloy Wheel Brushes
Our list of the best alloy wheel brushes makes it easy to find which one is best at keeping your wheels as clean as new!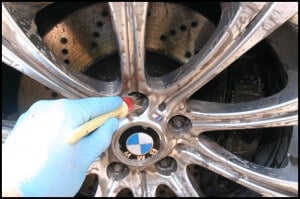 While this is a list of the top 5 brushes for alloy wheels you will find that each one has its own purpose and there probably isn't just one brush that will do it all!
Over the years of being professional detailers we have gone through hundreds of brushes and one thing I particularly found frustrating was trying to find the best wheel brush so that I could have something to rely on and not keep replacing.
Not only was it important that it wouldn't keep failing but more importantly be a quality brush that wouldn't scratch the delicate wheels I work on, be easy to use and actually be effective.
It took a while to finally find out what worked, what suited our needs and what we could rely on but more importantly learned that: a) there isn't a one-size-fits-all brush b) there are loads of useless brushes out there and c) you definitely get what you pay for!
The Best Alloy Wheel Brushes – Updated 2015
Even though this list of the best alloy wheel brushes is numbered, each brush has its own purpose so take the numbering with a pinch of salt!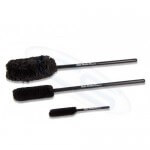 Recommend For: Luxury Wheel Brushes
Overall Rating: 8.5/10
Our Review: Our first recommended alloy wheel brush are the fantastic wheel woolies. These are about the most gentle and effective wheel brushes you will find. The super soft heads give you the confidence to use on even the most delicate wheel, including a gloss black wheel which shows up every imperfection! The set of 3 brushes are all different sizes to cope with a wide range of different sized wheels and openings.
The largest brush is my favourite to use as it offers the largest surface area and picks up the most shampoo (I use a separate bucket of shampoo to help cleaning, just for the wheels). It is so nice to use when cleaning larger opening alloys and lathers well with most wheel cleaners. The largest brush fits most inner wheel rims but the medium and small brushes are very useful when the biggest one doesn't fit.
The lack of bristles also results in less products flicking back at the user and cleans quicker than bristled equivalents. If you have only ever used basic wheel brushes, these wheel woolies will feel completely different.
They have a long and very strong plastic shaft and being made of only one piece, they will never 'fall apart' and I would be surprised if they ever snapped!
You may find the large and medium brushes are the most used so try using the smallest brush for grilles or very tight gaps as the brush itself is very small, measuring around 15 mm, about the size of a diamond on a audi grille!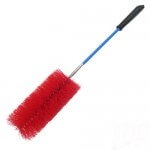 Recommend For: Cleaning Wheel Inner Rim
Overall Rating: 9/10
Our Review: Talking of bristles, this is still one of my favourite brushes after many years. I had replaced a few heads on them (they are used about 4 hours a day, 6 days a week at our detailing studio – LINK)
The brush is made by Vikan; one of the best manufacturers of car brushes and this is one of their most useful. The brush is the perfect length to get inside nearly all wheels on the market (including the wide tears on a Porsche GT3 or Turbo S) and cleans very well while being gentle on the alloy itself.
The thing I like about this brush over the wheel woolie is that despite the large wheel woolie being so good, it just slightly lacks the ability to get into the tighter areas that this bristled competitor can. If you use this brush while the wheels are on the car you can clean the backs of most callipers and the use of bristles will be able to get in-between the caliper openings and clean areas that the wheel woolies just can't get to.
Another great feature of this wheel brush is the replacement heads. Simply unscrew the top section, screw a new one in and carry on detailing!
Like I was saying before, the use of bristles does increase the chance of product flicking back at you but it's not enough to make me not use it, or stay one of my favourites for many years..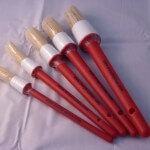 Recommend For: Multiple Use Detailing Brushes
Overall Rating: 9.5/10
Our Review: An essential brush to add to our best alloy wheel brush list is a quality detailing brush. The use of the long and wide wheel brushes are fantastic at broad and general cleaning, but there are always tight and awkward gaps that require much smaller brushes, such as around the wheel nuts.
These brushes are chemical resistant so can be used safely with any wheel cleaner (acid or non-acid based) and have no metal parts so are very safe in protecting your wheels from scratches whilst in use.
The Envy Alloy Wheel Brushes come as a set of 5 from very small to around an inch for quicker cleaning. The medium sized brushes are fantastic at cleaning around the wheel nuts, just apply your favourite cleaner to the brush, place inside the wheel nut opening and twist the brush around the nut to clean every angle and leave your wheel looking extraordinarily clean.
They are built very well and should be an essential addition to your wheel brush line up.
Don't forget, they have the added benefit of being a general purpose detailing brush so can be used to clean your cars interior or engine bay.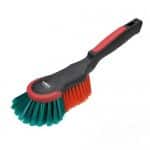 Recommend For: General Wheel Cleaning
Overall Rating: 8.5/10
Our Review: Another great offering from Vikan, I said they were one of the best brush makers!
While you should have your inner-rim brush sorted, you will want some brushes to deal with the main face of the wheel and larger, easier to reach areas which is where this fantastic brush comes to hand.
The split-ends of the brush makes it very capable at removing dirt while still being gentle on the wheel, and having been tested on gloss black Porsche Turbo wheels that we clean very regularly I can vouch that the brush will not scratch or dull your alloys!
The brush is great at cleaning the face of many alloys, especially wheels with larger spokes; owners of multi-spoke wheels, this will definitely help you but our recommended brushes further down will be more useful to you (and plenty of attention!).
Another benefit of having this style of brush on hand is using it to clean the tyres whilst cleaning the wheels. Sometimes a stiffer brush may be needed to really clean the tyres but on a regular clean, a good non-acid wheel cleaner will be perfect for cleansing the tyres due to its alkaline, de-greasing nature. This also gives a better base for tyre dressings and makes the tyres look like new.
Tip: Use your wheel cleaner with this brush to give the tyres a scrub before applying your tyre dressing.
Recommend For: Quality Detailing Wheel Brush
Overall Rating: 9.5/10
Our Review: One of the best brushes to come across the pond is the EZ Detail brush. This large, soft, flexible brush is ideal for alloy wheels as its gentle enough to care for delicate alloys but flexible enough to fit into tight gaps and clean awkward parts, even behind most callipers. When not being flexed and squeezed into tight gaps though, it has a large diameter of soft nylex brushes to clean the largest of wheel openings so is ideal for all alloys from small to large.
The brush features a hand protector that looks a bit like a sword covering but does a good job of looking after your hand and makes the messy process a cleaner task.
Another step taken to look after your alloy wheels is the nylon tip that protects against any accidental knocks against the face while placing the brush into the inner part of the alloy.
We have found this brush usually lasts about 90 cleans of a set of alloys, which for personal use equates to around 2 years if being used for a weekly wash. After this time the shaft becomes more flexible but just depends on how its being used and how often you bend the brush to fit into tight or awkward gaps.
EZ also make the Daytona Wheel Brush which has a reinforced stem and the EZ Mini for the even tighter gaps between your wheels & callipers, there is no reason for your wheels not to look brand new!
Tip: if you find that the bristles have lost their shape, simply leave the brush in a bucket of warm water and they will spring back into their original shape!