All That Gleams At Top Gear Studios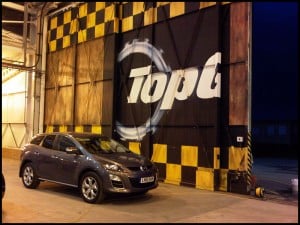 Several months ago I was called in to valet a number of brand new 370z's being used & raced on the Top Gear track as part of a promotion for both Nissan & Top Gear, called 'We Are Traitors'. As part of the event they were being used as instructor/demonstrator cars for new potential clients & drivers on the track so despite all of them having a maximum of around 50 miles on the clock they had quickly picked up a fair amount of dirt, rubber, tar etc..
Overnight valeting
Realising the cars were looking worse for wear and their new owners were to collect them in the morning from Top Gear, I was called around 6pm that night with the request that they be finished by 8am the next morning, just 14 hours later! So shortly after, water tanks topped up, assistance called in and a bag of keys to 13 Nissan 370z's, we arrived at Top Gear HQ.
Once we had been shown how to open & close the Top Gear hanger, and getting some photos of some cars from previous series, we set up for the night and got started on the small fleet of Nissan 370z's including a limited edition 40th anniversary, which was already broken after 13 miles..
After valeting the same car 13 times the evening was rounded up and got away for an early night around 4am. The only downside was due to short notice no digital cameras were taken but a selection of the photos taken from the evening are shown in the gallery below.
'All That Gleams at Top Gear' Gallery
About Us
We are a solely run mobile car care business operating in Surrey, West Sussex & SW London.
We undertake jobs of all sizes, both commercial and domestic, providing car valeting, car detailing and paint correction services, specialising in luxury & sports vehicles.
We are fully insured and have years of experience working on prestigious cars so you can feel confident that your car valeting, car detailing & paint correction will be done professionally, thoroughly, and most importantly, safely.
Please call or email Tom for a fast and friendly estimate of your car care needs.
Call on 07878 932511 or click the link for our online quote form.