Best Car Drying Towel 2020
Drying your car is such an important part of defect-free paint that your car drying towel should be chosen wisely.
Using the wrong towel will not only take longer to dry but can also cause swirl marks.
One of the worst culprits for micro-scratching your paint is a chamois leather.
Chamois' may feel 'soft' but have no depth or fibres to pick any dirt up. All of our car detailing services use microfibers at every stage.
Simply switching to a microfibre cloth which has lots of tiny fibres that absorb huge amounts of water, and dirt, will really help.
There are a few varieties of microfibre towels but the principle remains the same.
So, we have listed 5 great car drying towels that will make your car cleaning a whole lot better.
Best Car Drying Towel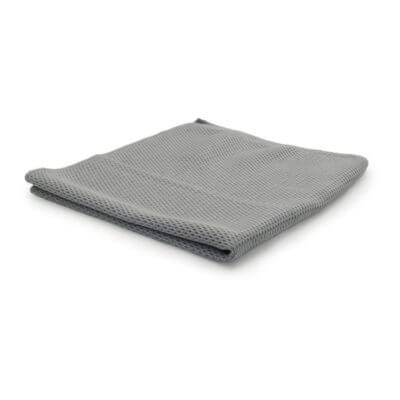 The Gtechniq drying towel comes from a well-known company in the detailing industry. It is therefore primarily sold as the towel to use for coated cars. However the lack of fibres and design doesn't make it the best car drying towel choice. It picks up water well but not as good as others on test. And the short nap can cause marring easier than others.
It performed well on glass due to the short nap and better polishing abilities. But this isn't something that is ideal for trying to avoid swirls in paint so gentle drying is recommended.
Our test also showed it didn't dry as quick as others not proving itself very well. If you have a coating on your car then one of the other towels will be better for you and your paint.
Drying Ability: 3/5 Delicate To Paint: 3/5 Value: 3/5
Buy Gtechniq Drying Towel On Amazon.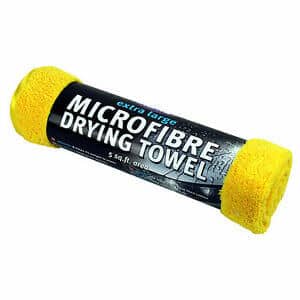 Kent Car Drying Towel is one of the cheapest on the market offering a very good entry towel. It is deeper and softer than most and a huge upgrade from a chamois.
The edging is soft and will be very gentle on your paint. If you want to keep swirls at bay then this is the cheapest way to do it.
The only drawbacks are the slightly smaller size than others and its ability to hold water. However this can still hold a lot of water; so buy two and you won't have to wring them out.
Drying Ability: 3.5/5 Delicate To Paint: 4/5 Value: 5/5
Buy Kent Car Care Drying Towel On Amazon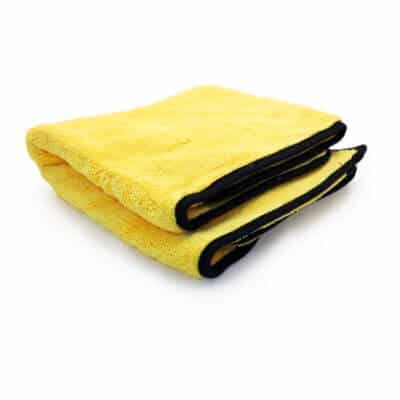 Meguiars are one of the most popular car care manufacturers. They are Americas 'Autoglym' and make a full range of products. They used to make products designed primarily for American paint; lots of glaze, oily waxes etc but have developed a lot recently.
The latest ranges are better than ever and their drying towel shows this. It is thick, absorbent and fluffy. Very good at soaking up water and also very soft on paint. Swirls should not be a problem with this towel.
The edges are wrapped for softness and the polyester is good quality. Measuring in at 55cm x 76cm, there's plenty of towel to dry even the largest of vehicles. Only downside is the edging can come away in use, dropping it down the ranks.
920 gsm towel thickness. Can make it heavy from fully wet but recommended for gentle drying.
Drying Ability: 4/5 Delicate To Paint: 4/5 Value: 4/5
Buy Meguiars Drying Towel On Amazon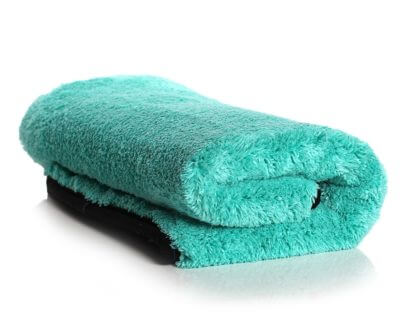 Drying your car while avoiding swirl marks will be made easier with the Aqua Deluxe. The Auto Finesse offering did well in our last test and remained a strong contender again this time around. The dense and plush layer of 1200g/m2 microfibers makes it very safe for delicate paint. But also makes it very absorbent with little risk of needing to wring it out before drying the car.
It measures at 70x50cm so is fairly large but once in use is easy to handle. Others are smaller and easier to handle but also need more wringing out so depends on your preference. The Aqua Deluxe will give a very safe drying option if avoiding swirls is your main concern.
Read more reviews on this towel on Amazon!
Panels were very dry after a single pass with this towel so very little buffing or detailing was needed after. But the use of a quick detailer will give a flawless and streak-free finish. Great for all finishes and will make light work of the water left on a ceramic coated car.
Drying Ability: 4.5/5 Delicate To Paint: 5/5 Value: 4.5/5
Buy Auto Finesse Aqua Deluxe On Amazon
The Gyeon Silk Dryer uses a different type of microfibre to deliver ultra-absorbent results. Instead of using usual individual fibres it uses a twisted loop design. This allows better drying and performed the best on test for removing water.
All That Gleams use this type of towel in nearly all detailing services due to the effective drying performance.
Gyeon are a popular coating supplier in the detailing industry so designed the towel to maintain ceramic coatings. Its a type of hybrid towel that offers the best performance but isn't the most plush. So its only drawback is the slightly increased chance of marring on very soft finishes and non-coated surfaces.
Read more reviews of the Silk Dryer online.
However it performed very well on test and removed water with one pass very quickly to leave a very dry surface behind. The large size of 90 x 70cm make it great for large amounts of water to be soaked up. It is also large enough to fold into 4 and make a thicker cushion making it safer to dry painted surfaces.
Drying Ability: 5/5 Delicate To Paint: 4/5 Value: 4.5/5