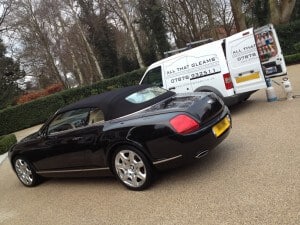 Welcome to All That Gleams, premier supplier of professional car valeting & car detailing services based in Guildford, Surrey.
Get your car looking like new with a professional, reliable & high standard service and restore that new car feeling & pride in your car.
We offer a range of professional car detailing services with the option of dropping your car to our fully kitted-out workshop in Guildford or we can save you time and come to your home or workplace with our range of professional mobile car valeting services.
We strive to provide you with the best car care services around
Showroom finish guaranteed with our high standards & high attention to detail
Over 6 Years Experience Making Luxury, Sports & Supercars Look Like New
Workshop & Mobile Services Across Guildford, Surrey
Certified by Autoglym & Auto Finesse
Your car will look like new with our proven process and world class products.
We only use the best products for our mobile car valeting services to ensure your car looks like it just came out of the showroom.
Our professional car cleaning services in Surrey offer you a reliable, quality & consistent service to keep your car looking its best.
We are trained by Autoglym and have the knowledge, passion & care to provide what your car needs to maintain & restore a showroom finish.
Get your car looking like new with our a full range of professional mobile car valeting services from interior valets to full paint correction to offer you exactly what you need.
---
All That Gleams Professional Car Detailing Services

---
To get your car looking like new All That Gleams offer the following professional car valeting in Surrey services: Professional Soft Top Cleaning | Full Car Valet | Prestige Car Valeting | Car Interior Valeting | Headlight Restoration | Machine Polishing & Waxing | Paint Renovation | Clay Bar Treatments | Leather Cleaning | Swirl mark removal | Faded Paint Renovation | Scratch Removal | Upholstery Cleaning | Stain Removal | Exterior Valet | Odour Removal | Mobile Car Valeting | Valeting At Your Home | Car Valeting At Work
---
Professional Car Valeting in Guildford
Car Valeting Brighton | Car Valeting Burgess Hill | Chessington | Crawley | Dorking | East Grinstead | Esher | Godalming | Car Valeting Guildford | Haywards Heath | Horsham | Kingston | Leatherhead | Redhill | Reigate | Virginia Water | Weybridge | Worthing
---
Car Valet in Guildford
All That Gleams are Surrey's premier car valeting service, offering workshop & mobile services. They are fully insured with years of experience detailing & valeting a wide variety of luxury, sports & family cars. You can feel confident that your car valeting in Surrey, car detailing in Surrey & professional paint correction will be carried out with pride, care and only the best car care products designed for the job. Surrey car valeting services are based on quality products, high standard experience and attention to details normally overlooked.
---
All That Gleams Car Care Services in Surrey
We only use the finest products that provide great results, proven and tested in extended research. We treat your car like our own and make sure nothing is missed and your car is looking its best. Tom, owner & operator, is trained, certified and proud to offer Autoglym valeting services across Surrey, guaranteeing the perfect shine. If you are looking for car valeting in Surrey we are dedicated to delivering you the best car valeting services and will always do our best to make your car look as good as new. Please call or email Tom for a fast and friendly estimate of your car care needs. Call on 07878 932511 or click the link for an online quote form. Find me on Google+.