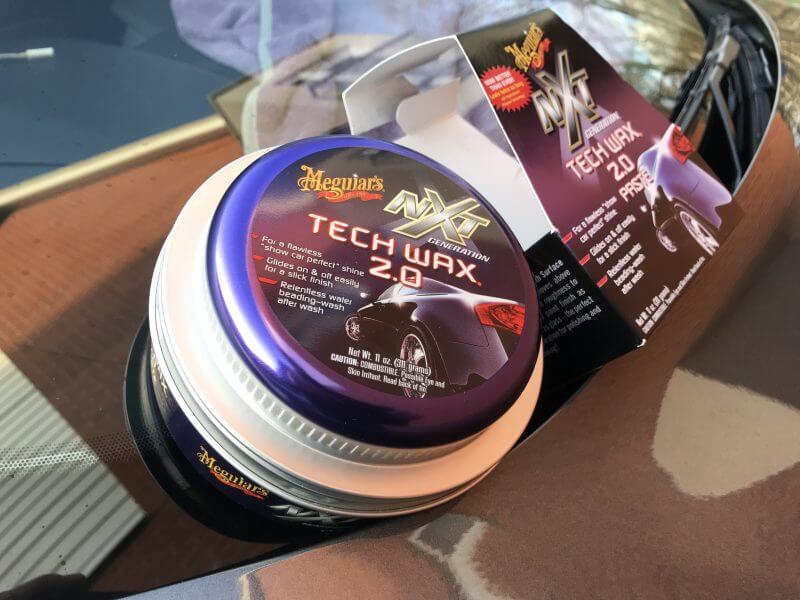 If you want to get the best shine from your car and like using Meguiars then look no further to find the best meguiars car wax for your car.
The best car wax by Meguiars will depend your own finish preference, paint condition and it's colour.
This is due to the different benefits each meguiars car wax offers and how each can benefit different cars and different colours in different ways.
Therefore choosing the best Meguiars car wax isn't a case of a one-size-fits-all solution.
So to make sure you get the most from your Meguiars wax and enjoy the benefits of beading, shiny paint try our tips below.
Best Meguiars Wax for light cars
Silver, white, light greys and light shades can provide
sharp, crisp and reflective
shine when polished and waxed properly.
To help achieve this requires clear and reflective, synthetic, paint protection.
So while a carnauba based wax can be great on a dark coloured car, it wouldn't bring out the best for a light colour.
Therefore, using a synthetic wax such as NXT or Ultimate Paste Wax can help create a sharper, more reflective shine for your light colour paint.
These will help give light paints great gloss and a really clean, sharp look. And if layered can look like glass.
But if a glass-like finish isn't what you are looking you can of course use a carnauba wax on all light colour paint.
However, the glow that carnauba wax can provide just doesn't always enhance light colours in the best way nor will it truly provide a wet-looking shine like a dark colour will.
So enjoy your light colour clarity and clinically clean looks with the best Meguiars car wax for your car.
Tip; Treating your light colour paint to a full wash, clay bar and a polish before applying the wax will maximise its durability and shine benefits.
Best Meguiars Wax for dark cars
Dark coloured cars including black, dark blue, dark grey and dark greens are unbeatable when it comes to reflections and shine.
But they do need more care and a different approach than their light colour counterparts.
Darker colours respond well to glazing and wax based products.
Therefore a carnauba based wax can be the best meguiars wax and help deliver a warm glossy shine.
Using Meguiars Gold Class or Meguiars Cleaner Wax will work well for dark paint.
Alternatively, try using Meguiars Cleaner Wax followed by Meguiars Gold Class; expect great shine and beading!
This combination works by polishing and deep cleaning the surface first, followed by the pure wax on top to ensure that it can bond in the best way.
Therefore making a smoother layer of the Gold Class wax giving you better shine and better water beading.
Another great option that is the latest release from Meguiars is their
.
Brought out from their Mirror Bright range, this offers great cleaning and waxing.
Polishing Wax is a great all-rounder as works well with new paint and old paint alike.
This is due to the built in cleaners which ensure the paint gets cleaned while waxing.
Therefore creating the perfect conditions and preparation for the built-in wax.
And to further extend its durability try topping it off
or paste.