All That Gleams Now Autoglym Certified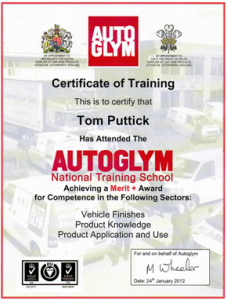 To ensure All That Gleams customers receive the best possible car valeting services and standards, I recently visited Autoglym's National Training Centre to take part in their professional valeting training scheme designed to update knowledge of their latest products, tehniques and ensure high standards are being met.
The test included both written and practical tests over a 2 day period to ensure correct vehicle finish knowledge, product knowledge and product application skills are being used correctly.
Improved Product Safety
As a professional car valeter in contact with car cleaning products on a daily basis, product safety, in use and application, is something I care about a lot be it whilst in use on the car or any contact that anyone, including myself, has with them.
Autoglym is still one of the only manufacturers not to use certain popular bulking agents in their products, used in pretty much every detergent available, which is a known as being very harmful to health and a carcinogenic..something I try to keep away from as much as possible!
It is for these reasons that I now use all Autoglym detergents and cleaning chemicals on all car valeting and detailing due to the premium quality, safety of use for both user & customer and safety to the environment, with nearly every product also biodegradable.
Still Delivering Quality Results
To you, the customer, this still means the same quality results are achieved but also with improved care for your car. The same high standards, results, care and protection are still delivered with every All That Gleams car valeting and car detailing service and the same protective products are still available including Zaino, Dodo Juice, Auto Finesse & Swissvax for those who prefer something specific for their vehicle or to match their maintenance routine.
See the website for our updated valeting services and layout and feel free to get in touch with any questions regarding any information you require!