Welcome to All That Gleams, premier mobile car detailing in Lewes.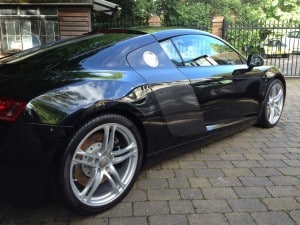 Lewes's most attentive car detailing service..
As car detailers in Lewes we offer a range of detailing services that include:
Swirl mark removal, high gloss machine polishing, paint correction, fine waxing, nano paint sealants, caliper painting, leather treatments, glass sealants, wheel removal for deep cleaning, engine detailing, Swissvax detailing & full interior details.
Our commitment to perfection comes with every job as standard.
We can offer you one of our set menus or work to your budget to make sure we have exactly what you need.
Whether you need your vehicle protected or fully corrected after some neglect, All That Gleams can restore your car to an as-new condition; every time.
---
Choose your car detailing services in Lewes:
---
Caliper & Hub Rejuvenation
Give your hubs & calipers the attention they deserve by restoring them from a brown rust to an OEM finish, usually being the missing link from a good looking car to a great looking car!
After spending several hours (or days) on perfecting the paint on your car, minor details start to stand out and getting your calipers & hubs looking like new will always make a dramatic difference.
Add this value & appearance adding service to your detail from just £50!
---
 Mobile Car Detailing in Lewes
All of our car detailing services can be carried out at any location. Access to power within 25m will be required.
Call or Book Online
Call now on 07878 932511 to discuss your car detailing Lewes requirements and a time & place that suits you.
If it's late in the evening use my on-line booking form to get in touch via the internet for a speedy response around the clock. I look forward to hearing from you and caring for your car!
Please review our terms & conditions when making a booking.
Car Detailing Lewes
As well as having years of experience detailing cars, I ensure all work is carried out with the best products, enough time to ensure that nothing is rushed and attention to detail to ensure maximum shine.
Bespoke car detailing treatments in Lewes based upon individual cars for personal service
Fully insured up to £1 Million
Years of experience, passion & expertise of looking after cherished vehicles (view my gallery)
Only the best, most suitable products used for your vehicle for longer lasting, better results
Fully tailored to suit you & your vehicle
To book (or just for a chat if you've got any questions about car detailing services in Lewes) call Tom on 07878932511.
Areas Covered
Serving Lewes, I mainly operate my car detailing services throughout Surrey, West Sussex & Hampshire.