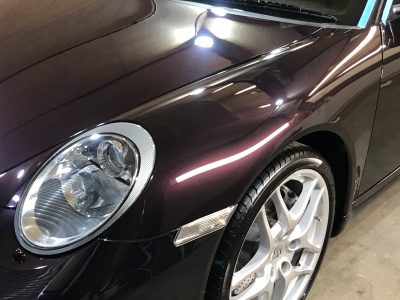 All That Gleams offer specialist car care delivering high standard car detailing services at their dedicated workshop in Guildford, Surrey.
Your car will be cared for with all of our detailing services using the finest products and techniques to ensure that your vehicle leaves looking like new.
Therefore every service is designed to bring out the best in your car with detailed cleaning, swirl free machine polishing and durable ceramic coatings.
ATG services can be tailored to your specific requests but based on the 1300+ sports and super cars we have designed our main services to make 90% of vehicles look stunning.
If you can't see what you are looking for, call ATG on 01483 346344 to discuss what you are looking for as there is always help at hand.
Car Detailing Guildford Services
Protect your vehicle from the elements. Includes extensive cleaning of all exterior areas, de-contamination, cleansing & premium protection for all exterior surfaces to protect your investment for a glossy, weather-proof finish & higher re-sale value. Click here for more info about the Protection Detail.
An affordable detail designed to enhance the gloss of your paintwork & give you an extended period of care-free maintenance. Includes all 'Protection Detail' stages plus single stage machine polish to remove light defects. Click to see more info about the Gloss Enhancement Detail.
Removes swirl marks, fine scratches, etching & minor defects with the Minor Paint Correction Detail. Includes two-stage paint correction to restore & refine paintwork for a glossy, flawless shine. Amazing results can be achieved from both new and used vehicles in need of minor rejuvenation to revive the life back in your paint. Click the link to see more about the Minor Correction Detail.
The most intense & extensive detail available from All That Gleams. Every surface, contour & detail of your vehicle is thoroughly cleaned, prepared, polished, detailed & protected from every angle to ensure nothing but flawless gleaming results. Nothing escapes untouched. Note: your vehicle may attract a lot of attention & lots of turning heads. Click the link to see more about the Major Correction/Ultimate Detail.
Why Trust All That Gleams
All That Gleams ensure all their work is carried out to the highest standard with attention to detail second to none. All That Gleams possess a genuine passion for cleaning cars to ensure you receive nothing but excellent service.
Bespoke treatments based upon individual cars for personal service
Fully insured up to £3 Million
7 years of experience, passion & expertise of looking after cherished vehicles (view the gallery)
Only the finest products used for your vehicle
Fully tailored to suit you & your vehicle
Book ATG For Your Car Detailing Guildford Today!
Call us on 01483 346344 to discuss your car detailing requirements and a time & place that suits you. If it's late in the evening try our free no-obligation on-line enquiry form to get in touch via the internet for a speedy response around the clock. I look forward to hearing from you and caring for your car!