Winter Car Care – Care for your car in winter
Just like you, your car needs to wrap up when facing the harsh winter elements to ensure it stays in the best condition to avoid a long, tedious tidy up to get the car back up to scratch when the warmer weather arrives.
The basics
These months ahead plan a tough time for your car. The paint, tyres, glass, plastic and any type of surface is going to be put through its paces facing wind, rain, sleet, snow, salt and road oil. Now (being Autumn) is the best time to prepare your vehicle for the months ahead and apply proper protection to all required areas to give your car a fighting chance at surviving. Even if you have cared for your car through the summer, the paint, tyres, leather and rubber trim all need some attention now before the cold sets in. So, where to start?
Protect the paint
The best type of protective coating is a quality synthetic wax. Unlike natural waxes (carnauba, bees, candelilla, etc), a synthetic wax provides much more durable protection against water and road salts. My favourite products that I rely on for solid protection against winter's finest are Car Lack 68 and Zaino. They are applied relatively easily and products I use on my own cars to guarantee they are well protected. If you can't let go of natural Carnauba wax then take a look at the Collinite offerings. These are the most durable waxes I have tested and also some of the most affordable out there.
| Light Paint | Dark Paint |
| --- | --- |
| | |
Note: One point worth noting here is that your car is much more likely to be scratched during the winter due to the increase in debris, salt, dirt etc and is the most likely time that swirl marks will be inflicted so ensure you have a solid wash routine with plenty of pre-wash stages to minimise the chances.
Inspect the interior
Your car interior may get more abuse than the exterior due to the pressure of sitting of the upholstery with respectively dirty shoes, clothes and general grime around. The application of fabric protectants can be very useful here so that water and dirt can be simply wiped away or vacuumed up rather than penetrating the carpet and upholstery.
Leather interiors face a tough time in winter due to the cold, dry air that pulls the moisture from leather, so its important to treat leather before the colder, freezing temperatures set in. Another point here is that once the daytime temperature drops below 10 degrees C, the leather (being dead skin) will not accept conditioners as it will become too cold and brittle for the pores to be open and allow proper cleaning. If you do try to apply conditioners or clean the leather in very cold temperatures, the surface may look good but you will not have provided moisture to the hide.
Don't let your tyres get tired
The tyres on your car may have one of the toughest jobs in the winter. As well as having to deal with the cold temperatures and general grime, they also have to deal with the pressures of driving on uneven, gritty and grime covered roads attacking the surface. The use of quality tyre dressings keep them looking good during the harshest weather and provide a barrier to the elements and to the ozone that can cause rubber to deteriorate. Tyre gels are a good solution in winter, as they usually have more durability due to being able to be 'soaked in' to the rubber rather than sit on top and be washed off.
It is worth noting that proper cleaning of the tyres is very valuable here aswell, otherwise you will be applying the dressing to a layer of grime that will allow the protectant to just wash off. If you have any tyre dressing in spray form or durable trim dressing, it is also worth spraying the inside of the wheel wells and the engine bay to resist the water and grime making cleaning a lot easier when things get mucky.
Tyre dressing gels last longer than water based: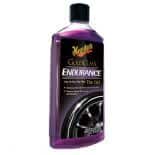 Be wheel careful
If you have the option to, it is best to take each wheel off the car for proper cleaning and protecting to ensure every area is reached and gives the best chance for inspection. Clean each wheel, front to back, with an extra-strength wheel cleaner for stubborn brake dust and iron filing build up. Dry the wheels with a good quality microfibre cloth or drying towel before applying protection in the form of a quality wheel sealant or synthetic wax such as Car Lack 68, the same as you used on the bodywork, as it is heat resistant and therefore stands up against the hot brake dust flying off your pads. The final point is to dress the tyres front and back (it's not just for show!), allow to penetrate the rubber before wiping off the excess after about 15-30 minutes.
Fight against winters worst:

Need a trim?
The other parts of your car, non painted, to be treated include bumpers, trim and rubber door seals. These materials are affected by extreme temperatures and the UV radiation. UV causes fading (not tanning like us unfortunately), hardening and cracking, especially in winter with a reduced ozone layer. Door, trunk and rubber seals should be protected to maintain their shape and elasticity longer, preventing cracking and providing a better seal for longer.
Keep your top on
If you drive a roadster/convertible in cold winter weather, it is time to protect your top and make it waterproof again. Why? If water is allowed to sit on the roof, sink into the fabric, then freeze, can cause a lot of damage due to the expansion of the water and cost a lot more than the cost of protecting it. If you don't have any fabric or upholstery cleaners then there are many good fabric roof care kits available to do the job properly. Autoglym make a very good kit designed specifically for fabric roofs (and canvas roofs).
Wipe away the winter woes
Check the condition of your windscreen (and rear screen) wipers and replace if there's any sign of wear. Any wear visible now will be amplified in the winter months due to the extra wear and brittleness. Whilst checking the blades, check the washer fluid and add a good screen wash solution to cope with the cold temperatures and to cut through the grime, salt and traffic film to wipe away the winter woes and keep a clear screen at all times, which is also essential for safety and keeping you on the straight and narrow.
All show and no go; Check the battery
If your car is more than 6 years old (or past the warranted time written on it), think about replacing the battery (I know, I'm sorry to be the bearer of bad news and probably costing you tonight's takeaway, but the relatively small cost of a battery will be far outweighed than those freezing few hours stranded with a flat battery! No need to thank me..). There will always be that extra specially cold morning where your battery breaths its last breath and you are going nowhere (despite your car now looking amazing from my tips!). On all batteries, new and old, check the terminals and posts are free of corrosion, lubricated and tight. Clean with a terminal cleaner available from your local motor factor, lubricate with a small amount of grease and tighten with the correct size nut and spanner.
Refresh the coolant
Despite it being the coldest time of the year, you should have your cooling system checked for the correct amount of antifreeze to stop it getting too cold and freezing. The instructions on the bottle should tell you whether or not it needs to be diluted but even if you have coolant in the tank, if it is more than 2 years old, it should be flushed and refilled.
Check the oil..
While we're getting mucky on the car, change your car's oil and filter as it is the best way to prolong the life of the engine and good practise to come into winter with fresh oil to ensure your engine is protected at all times. Check when you last had the oil changed, most manufactures recommend an oil change every 5,000 to 15, 000 miles, or once a year, whichever comes first.
Monday morning blues
No-one enjoys getting up for work in the morning (except me..) and your car is no exception. If your car is reluctant to start or stalls in warm weather, the problem will only get worse as we get deeper into winter. Have the hoses, pvc, fuel and air filters replaced if necessary. The same amount of time and effort will save a lot more time and stress later on when the weather is even worse! Getting the noisy, cold bus to work or wait 4 hours for the recovery man in sub-zero temperatures is the last thing you want to do.
Check the tread on her feet
The last thing you want to do is spend all your time and effort getting your car protected for the winter months to only end up backwards in a hedge or in a ditch..even the best paint sealant can't protect you from that! Worn tyres are bad enough in the dry so are basically useless, and very dangerous, in the wet, icy and slippy roads.Replace worn tyres with a good set of all-weather rubber (most are these days), for extra urban areas get a set of snow chains to help reduce the chance of getting stuck.
Check the tire pressure as correct pressures ensure optimum handling, braking and wear. Remember to check the pressures regularly especially in winter as the cold air messes with the pressure and causes it to drop, the colder the air temperature gets.
Final point..
Winter preparation and proper car care will help keep your car protected through these harsh months and make it to the spring in good condition. If you take a weekend before the winter sets in to check the above points you and your car will be ready for winters worst and save a lot of possible stress, hypothermia and money.
Winter Car Care Checklist
Polish and seal your paint with a quality synthetic sealant
Clean and protect the fabric
Clean and condition the leather before it gets too cold
Clean and protect the wheels (synthetic sealant)
Apply tyre dressing regularly
Apply dressing into arches and engine bay
Treat rubber seals and plastic trim
Waterproof your soft-top
Check wiper-blades and top up washer fluid
Check and replace battery if older than 6 years
Check/change coolant & oil
Check/replace hoses, fuel & air filters
Check tyres for wear
Enjoy your winter-prepped-hassle-free vehicle
Haven't got the time, patience or products to do it yourself? Prefer a professional to do it? Call Tom on 07878 932511 to have the work carried out by All That Gleams for the special winter price of £99. Limited spaces so call today and let us protect your lady for winter!
What's your winter car preparation? Any suggestions or tips that I missed? Add your comments below!