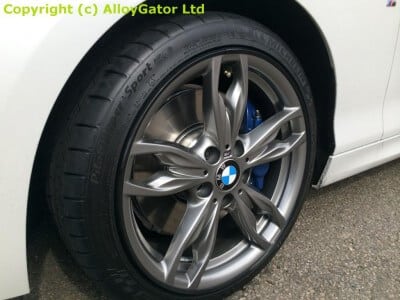 Protect your alloy wheels from kerb damage with our professional Alloy Gator Fitting In Surrey.
Alloy Gators are a permanent fixture that attaches between your alloy and tyre for a safe and effective fit that protects your alloys from everyday wear and tear.
Protects your wheels from kerb damage and scuffs whilst being unobtrusive
Saves money on refurbishing wheels
Improve the looks of your wheels – 15 colours available
Alloys are becoming more and more expensive due to the size and premium finishes offered so protecting them with a simple fix gives you peace of mind and can save you a lot of money.
Alloy Gator Fitting Surrey
Your Alloy Gators are installed at our workshop in Guildford, Surrey and carried out while you wait for an easy service and no time wasted taking your car off the road.
We don't change the balance or affect any part of your car, we simply remove the tyre valve to let the air out to allow the Alloy Gator to fit between the rim and tyre and install it around the wheel.
There is then a joining tab to make it a seamless fit and the tyres are inflated back to the original pressure or manufactures recommendation.
Alloy Gator Prices Fully Fitted
Alloy Gators are just £120 + vat for any colour and any wheel up to 21″.
If your wheels are above 21″ or if you prefer a smaller profile for enhanced looks you will need our Exclusive sets which are just £135 + vat supplied and installed.
Call us today on 01483 346344 to discuss your colour options and book a time to get your alloys protected from curb damage!