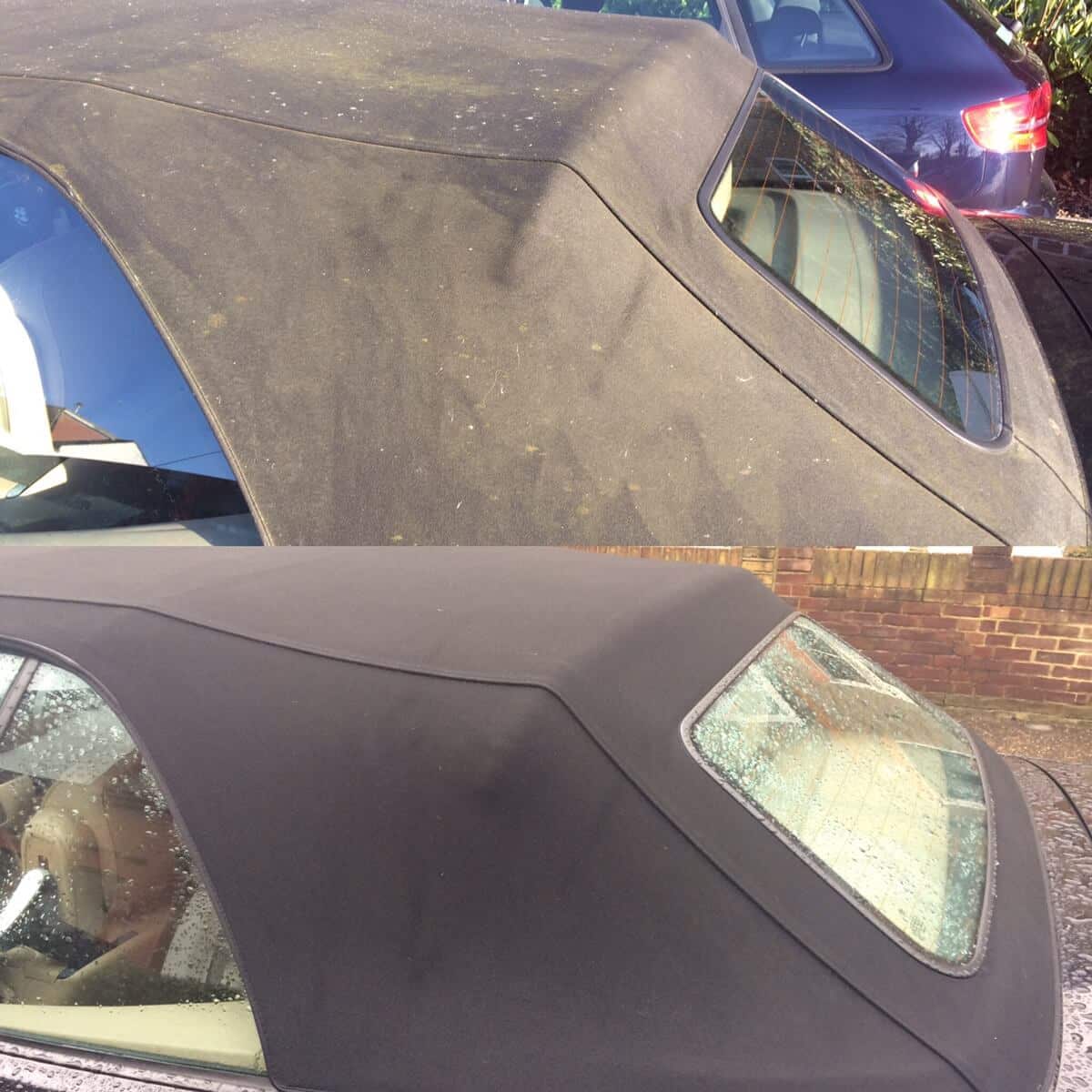 Treat your soft top to a professional convertible roof cleaning service in Surrey and make your roof look like new!
We carefully deep clean and weather-proof your roof with a premium water-repellent coating to protect it against soiling in the future and keep its colour bright.
We are dedicated to bringing you the best professional soft top cleaning services in Surrey.
We gently vacuum the loose debris, then your soft top roof is treated with a premium fabric cleaner designed to break down organic soiling including algae and dirt, causing the brown or green discolouring.
All cleaning is carried out by hand for the best and safest cleaning for your soft top to ensure there is no damage caused by machines and the utmost care can be taken on the most delicate of soft tops.
The dirty solution is then flushed away, checked & cleaning repeated until your soft top roof is left as clean as possible, before it is carefully dried with premium towels.
To finish, your roof is treated with a premium fabric guard coating designed to reproof, protect & preserve the appearance of your soft top hood and make owning a convertible a pleasure again!
Professional Convertible Roof Cleaning Prices
Excessively dirty, neglected or extra large roofs may incur additional charges.

| Service | Workshop | Mobile |
| --- | --- | --- |
| Soft Top Clean & Protect | £89.95 | £99.95 |
| Plus Exterior Valet | £119.95 | £129.95 |
Use form below to Book Online!
Professional Soft Top Cleaning In Surrey Promo Video
http://www.youtube.com/watch?v=peA_yAuPH4w
Book Your Soft Top Treatment Today!
Use the form below to book your soft top cleaning:

Convertible Roof Cleaning Surrey Examples
If you have a moment please take a look at our professional soft top cleaning archive to see our recent work.