All That Gleams provide a high quality Jaguar car valeting service across Surrey providing professional, reliable, quality car cleaning services to your door step.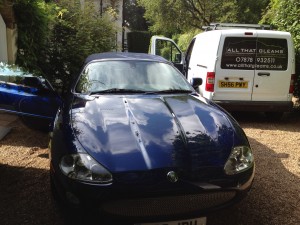 Backed by years of premier car valeting you can be safe in the knowledge that your car will be cleaned safely & efficiently to ensure it looks like new.
Our Jaguar car valeting is only carried with premier products and care to ensure your car looks its best.
As car cleaning professionals we understand the care & attention needed to keep your Jaguar looking its best, which is far more than a quick wash or a trip to the local car wash, which consequently can cause more damage than good.
Modern cars, especially luxury & sports cars, have a number of delicate surfaces requiring specific care and attention if to be kept in good condition.
It is for these reasons and more that all of our car cleaning is carried out with premium car care products designed for safe but effective cleaning that won't damage delicate surfaces.
If you would like your Jaguar cared for to the same high standards by them then click the link to request an online quote or call Tom on 07878 932511 for more info today.
Jaguar Car Valeting | Jaguar XF
Jaguar Car Valeting | Jaguar XK8
All of our services & treatments carried out on the featured Jaguar vehicles can be found on this website as a guide, however, all of our car detailing & car valeting service are carried out on an individual basis to ensure your vehicle is catered for on a personal level to obtain the most from our services.