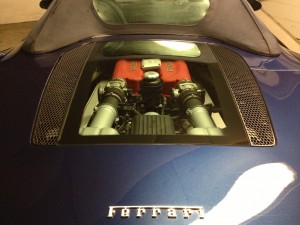 Car cleaning experts, All That Gleams, provide high quality Ferrari car valeting services across Surrey.
Find a selection of some of our work we have carried out on other Ferrari's which have been treated to one or more of their car valeting & car detailing services.
Our years of experience of premier car valeting ensures your car will look like new. Providing the care, attention and premium car care products required to clean modern day sports and luxury cars, especially Ferrari.
Whichever Ferrari you drive, you will only find the finest car care services available with All That Gleams.
All That Gleams only use the finest car valeting products to ensure your Ferrari receives nothing but the best car valeting services in Surrey.
We are certified and trained by Autoglym who undoubtedly produce some of the best car valeting products available today, and even after extensive testing with nearly every other premium valeting product on the market, we are confident and proud to exclusively use Autoglym for the quality, shine and durability.
Ferrari Car Valeting Services
Ferrari 612 Scaglietti
Ferrari 360 Car Valeting
Ferrari 612 Scaglietti
All of our services & treatments carried out on the featured Ferrari vehicles can be found on this website as a guide, however, all of our car detailing & car valeting service are carried out on an individual basis to ensure your vehicle is catered for on a personal level to obtain the most from our services. Call Tom today to find out more on 07878 932511.