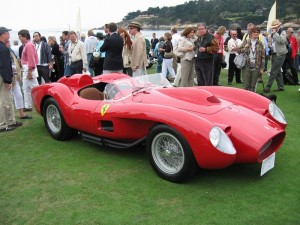 Since the introduction of cars in the late 19th Century, we have been fascinated by them as objects of engineering and beauty. Although beauty is in the eye of the beholder, a select few manufacturers have brought us stunning examples of craftsmanship that have stood the test of time. What makes a car beautiful? Automotive beauty is often achieved through science, as the shape of a car has been heavily influenced by aerodynamics and speed. Some beauty comes from an artistic heritage and natural flair and other beauty has been found through a vision of a manufacturer for how they envisage cars to look.
There have been a lot of countdowns for the most beautiful cars in history, so we have collated the results and averaged them out to give the definitive list of the five most beautiful cars ever made. Although only one of them is still in production today, Nationwide Vehicle Contracts offer a range of car lease deals and accessories for any taste.
AC Cobra
The Cobra is the most copied car around, and this is purely because of its beauty. You'll be able to pick up a kit car or replica for reasonable money, a good one for around £15,000. An original one will set you back a lot more though; if you can find one for sale they have reached the height of £250,000. The 1960's muscle car had several US tune jobs too, from the likes of Shelby who modified the engine bay to allow V8 support. This British car will forever remain a motoring icon.
Mercedes-Benz 300 SL Gullwing
This beautiful car was introduced in 1954 and featured highly distinctive gull-wing doors. There was also a convertible version during the life of the model too. The 3-litre unit was adequately powerful for the 1950s and the beauty of the car remains as relevant as ever, as Mercedes have recently created the SLS; a tribute to the great 300 SL. The car was quick too, thanks to aerodynamics achieved by the beautiful curves and lines of the body. The car also scored wins at the Le Mans and top 5 finishes in the Mille Miglia.
Aston Martin DB9
Launched in 2004 and still available today; the DB9 is one of the most beautiful contemporary cars around. After a long stretch of questionable British sports cars; the DB9 rejuvenated the industry with this stunning GT cruiser. You can just about get 2 passengers in the back, and the 450BHP V12 engine is enough power for the most demanding motoring purists. If you want to travel a long journey in style then this is the only car that offers style, luxury, speed and comfort for around £100,000. There's a convertible version too called the Volante which is equally attractive.
Ferrari 250 GTO
The 250 GTO is quite possibly the most desirable car in the world due to its beauty, exclusivity and pedigree. Generally regarded as the greatest Ferrari in history, the 250 GTO recently commanded record money selling at auction in London for millions. With only a few examples left in the world, this car has everything going for it and you only need to look at it to see why. It's another 60s classic that has won a number of competitive races and awards for simply being one of the greatest cars in existence.
Jaguar E-Type
With more votes than any other car across nearly every poll you can find, the E-Type Jag takes the unanimous crown as the most beautiful car ever made. Production started in 1961 and carried on until 1975. Even Enzo Ferrari himself called it the most beautiful car to ever be made. During the 60s this car was a third of the price of equivalent Ferraris and Lamborghinis and this made it accessible by a far larger number of people which leaded to strong worldwide sales. Over 70,000 were built, and of course many are still available today. A good example will set you back around £60,000, which is a bargain when you compare its beauty to other cars available at this price.