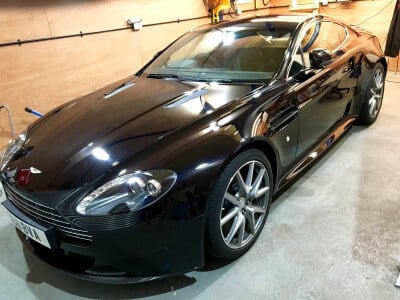 The Used Car Correction Detail is designed to revive & restore the finish & gloss of any used car that requires some tlc.
Every surface, contour & detail of your vehicle is thoroughly cleaned, prepared, polished, detailed & protected to revitalise your car.
This is ideal for a newly acquired car that needs to be brought back to life, or prior to selling your car to maximise the sale price and give the new owner a new car feeling.
Restores Gloss & Life Into Used Cars
Swirl Marks & Imperfections Permanently Removed
All Surfaces Cleaned, Polished & Protected With Premium Coatings
Ultimate Ceramic Coatings & Alloy Wheel Refurbishment Available
Designed to reverse the damage caused by hand car washes, automatic machines, years of neglect, poor wash techniques, aged paint or simply to bring perfection to used but loved vehicle, leaving a glossy, sharp finish that breaths new life and is much easier to maintain.
The used car correction & protection detail service is completed by applying the highest quality paint, wheel & glass protection to ensure your vehicle is protected against the elements and seals in the shine.
Completed with our detailed finishing touches, we ensure your vehicle looks perfect from every angle.
Used Car Correction Detail Features:
Alloy wheels detailed & cleaned inside & out to remove brake dust & iron filing contaminants
Wheels removed for better access & more detailed cleaning of undercarriage
*Optional Premium Alloy Wheel Refurbishment Service Available*
Arches & tyres degreased & cleaned by hand
Extensive wash process including shuts and engine bay
Tar removed from bodywork & wheels using non-abrasive products
Paint-safe chemical decontamination for paintwork to remove contaminants beneath surface
Clay bar used to further decontaminate paintwork
Extensive multi-stage paint correction process carried out to remove as many defects as possible including scratches, swirl marks, oxidation & flatting marks
Paint refinement process completed for a hologram-free, refined finish
Paintwork cleansed to aid the bonding of wax
Premium wax or sealant applied depending on paint colour
*Ultimate Ceramic Paint Protection Upgrade Available For £95*
Wheels treated with high temperature sealant
Trim & tyres treated for protection against fade & cracking
Exhaust & bright work polished & protected
Interior thoroughly vacuumed, cleaned & mats shampooed
Leather upholstery deep cleaned & conditioned
All trim/dash/plastics shampooed and left in an as-new condition (no greasy dressings)
Glass polished inside & out
Front glass sealed for safer driving to promote water resistance
Vehicle finalised & inspected
Used Car Correction Detail Cost: £395 (car) £495 (4×4)
This detail is ideal for those looking for nothing short of perfection and a show car finish. This detail is designed to rectify well used paintwork that has seen a lot of bad care or paintwork that has had heavy defects inflicted either through heavy etching, scratches, very poorly cared for, bad paint job/re-spray or just years of neglect causing oxidation, dull paint & a poor quality finish.
Book Your Used Car Correction Detail in Surrey
Click here for our online booking form to request a Used Car Correction Detail for your vehicle and we will get back to you as soon as possible with available dates.
Alternatively, call 07878 932511 to discuss your requirements and talk to us today!