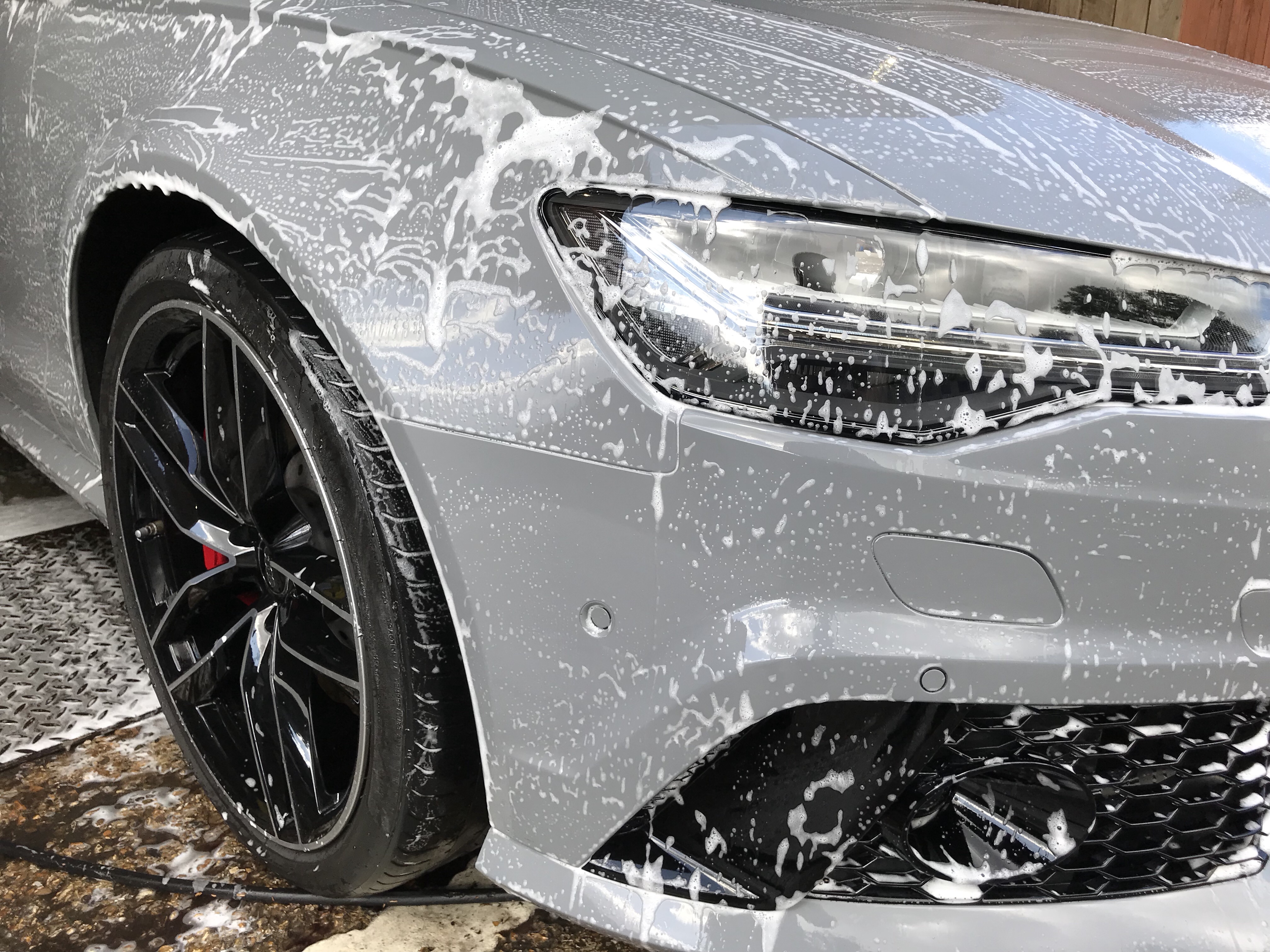 Want to get the most from your car cleaning efforts? Using one of the best car shampoo will maximise your efforts and keep your car looking like new!
Choosing which shampoo to use is simple..but not easy if you take a look down the car cleaning aisle of an automotive cleaning store!
Using a quality car shampoo will make car cleaning easier and more effective in creating a streak-free shine and also which won't cause rusting like using washing up liquid will.
Top 5 Best Car Shampoo 2018
Our list of the best car shampoos are all safe for regular washing and won't strip wax or sealants.
We have found the best car shampoo for maintenance/every day use and for detailing are:
Cleaning: 4/5 Foam: 4/5 Value: 4.2/5
Quite similar to the Gold Class shampoo but with a different scent and uses the same polymer technology as the NXT range of polish and wax to compliment each over and refresh the shine after each wash.
The main benefit of this NXT shampoo is the water softener's which help soften hard water to make more suds and less chance of water spots after washing (but always follow up with a microfibre drying towel to be sure!).
It is highly concentrated so even though the initial price may look high, the large container and small amount required will easily make this last a year for 1-2 cars being regularly cleaned.
This makes it cheaper in the long run than cheaper shampoos but not only that also make it quicker and easier to get a better shine by doing its job really well, breaking down dirt and stubborn marks with ease.
Once you've finished washing, the shampoo easily rinses off and the premium polymers leave a glossy just-waxed finish.
Cleaning: 4/5 Foam: 4.2/5 Value: 4.5/5
Autoglym have been producing quality car care products for years and are now known world-wide due to their commitment for quality.
This is a ph-netural shampoo so is safe for all wax and polish but does contain a conditioner which effectively adds polymers to enhance gloss and also de-water to help the drying stage.
Its a great shampoo but I personally prefer their, originally trade only, pure shampoo.
It doesn't have the conditioners but is a far nicer shampoo to use, smells of cherry and is still wax-safe.
Autoglym Shampoo is also very concentrated so is great value and foams up really well making it easy for the wash mitt to glide across the paint and the suds will stay there right until the end of the clean.
Cleaning: 4.2/5 Foam: 4/5 Value: 4.5/5
Meguiars have been leading the car care industry for many years and always deliver quality products, Gold Class Car Shampoo being no exception.
It helps to soften hard water so is less likely to leave any water spots and has a high concentration so can be diluted 1 part shampoo to 128 parts water, which works out about 50ml for a 6 litre bucket of water.
The high dilution and large container size make it an extremely economical solution and is far cheaper than buying smaller bottles throughout the year.
The other reason this shampoo is so popular is the luxurious silky smooth feeling it gives whilst washing, helping to keep swirl marks to a minimum.
The conditioners in the paint help to add a slick gloss to the paint which is great for cars which have been recently waxed or for nourishing the paint and keeping a glossy finish with minimal effort.
Cleaning: 4.5/5 Foam: 4.2/5 Value: 4.2/5
Auto Finesse Lather is a fantastic every day shampoos for keeping your car looking spotless.
It is safe on all wax and protective coatings so can be used as often as you need without worrying about what you spent your elbow grease applying to the paintwork.
It is safe on all their wax and paint sealants and the lubricants make it less likely to create swirl marks in your paintwork.
Lather has a very nice citrus smell (similar to what is used in their citrus power) so breaks down dirt quickly, while still rinsing very quickly and restoring the wax underneath without harm.
Auto Finesse Lather can also be used as general shampoo for wheels which saves the need for using strong wheel cleaners especially if you wheels have a quality wheel sealant applied so brake dust doesn't stick.
It is very concentrated so a couple of small caps is all thats needed for a large bucket of water.
If you are looking for one of the best shampoos for detailing then Lather should be high up your wish list.
Available in 500ml or 5000ml for bulk discount!
Oh, and now come in ridiculously good scents! (Banana, Strawberry, chocolate…pointless but so good!)
Cleaning: 4.5/5 Foam: 3/5 Value: 4.5/5
Autoglym makes it twice into the top 5 best car shampoo with two very good but different shampoos.
Bodywork Conditioner has long been one of the most popular car shampoos for car care enthusiasts.
It was one of the first shampoos to contain conditioners and rust-inhibitors making it easy to give your car a high gloss while protecting all the nooks and crannies you can't reach.
It contains premium modern polymers which outdate traditional 'wax-based' shampoos and give a more effective clean whilst adding a water-repellant finish which helps speed up drying but also resists dirt until the next clean.
Its most effective if used after an application of their Super Resin Polish or HD Wax for the ultimate shine but can be used on any car.
Autoglym Shampoo Conditioner is PH neutral and smells like a sweet shop, plus with its luminous green liquid makes it a pleasure to use and hard to resist!
Don't Forget!
Now you have one of the best shampoo for cars make sure you don't forget the tools to wash with!
Buckets With Grit Guards – reduces chances of swirl marks by separating rinse water
Wash Mitt – makes cleaning easier, safer and more effective than sponges
Drying Towel – dries in seconds and won't scratch like a chamois
Quick Detailer – adds shine and used for removing water spots